Ploughshares Calgary Society seeks to educate and encourage research to create mutual respect and understanding so as to contribute to human security and the peaceful resolution of conflicts. By holding educational events, engaging in advocacy and publishing a regular newsletter, we seek to build sustainable peace, encourage practical steps towards nuclear disarmament and minimize recourse to military force.
". . . they shall beat their swords into ploughshares and their spears into pruning hooks; nation shall not lift up sword against nation; neither shall they learn war anymore."

– Isaiah 2:4
Ploughshares Calgary aims to educate and encourage public discussion on:
Human security and nonviolent conflict resolution
Canadian foreign and defense policies
Nuclear disarmament, control of conventional arms, militarism and specific wars and interventions
We are a registered non-profit society in Alberta and gladly accept donations towards our work.
---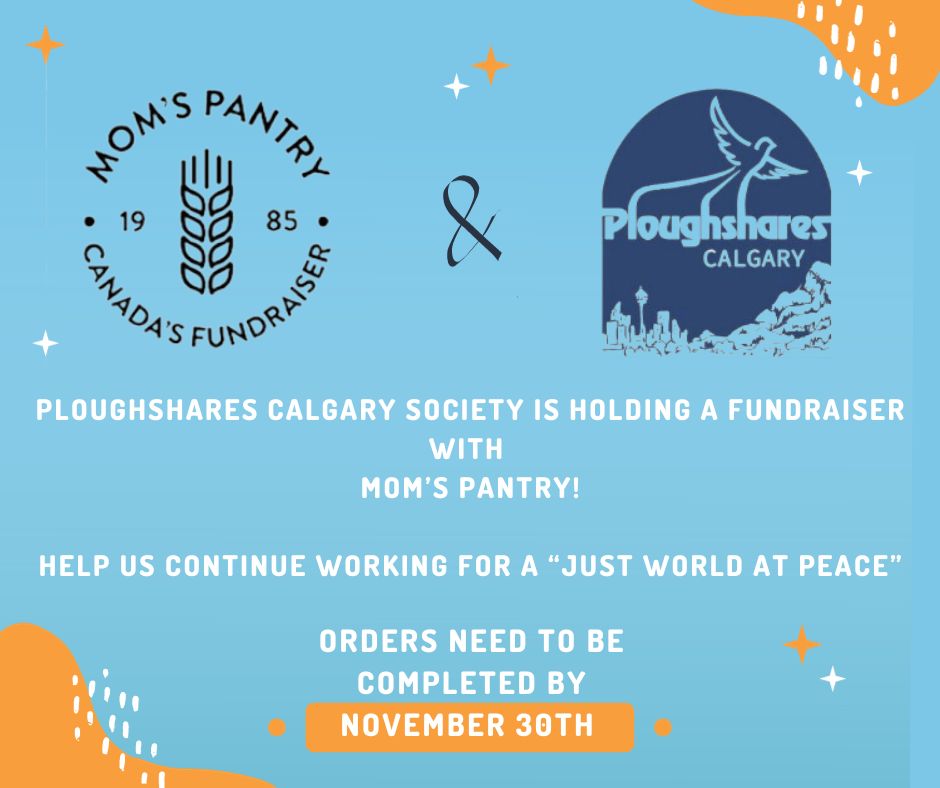 Are you hoping for a more peaceful holiday season? We propose a way to make your preparations a little easier!
We have decided to partner with Mom's Pantry, a Winnipeg-based company which offers high-quality products, including fresh baked goods, cookie dough, easy frozen meals, pizza kits, a wide variety of teas and spices, & other pantry staples. Many of these items would make great holiday gifts! They could also help relieve a little bit of seasonal stress by having some ready-made foods on hand, so that you can focus on what's more important – like spending quality time with your loved ones.
How To Order:
1) Simply navigate to momspantry.ca
2) Click SHOP NOW and start adding products to your cart
3) When you're ready, click CHECK OUT
4) Select Fundraiser Order (Group Pickup).
*If you're not local to Calgary but would still like to support this fundraiser, you can also click Fundraiser Order (From Afar), a $10 shipping fee will then be added to your order*
5) Search for Ploughshares Calgary Society group name OR enter the order # (382539) and group passcode (15601)
6) When it asks for Seller First and Last name, do not enter your own name. Instead, enter Sellers First Name as: Ploughshares; Last Name: Calgary (This is so that Ploughshares gets credit for your purchase)
7) Enter your email address, your own first and last name, and your billing address
8) Enter your payment information
9) After your order is placed, you will receive a confirmation email
Orders will be available for pick-up at Parkdale United Church (2919 8th Avenue, NW). The exact pick-up day will be confirmed a little later, but will fall during the week of December 10th-16th. More details regarding pick-up (including a confirmed date and time) will be given closer to the estimated pick-up week.
Thank you for your continued support!