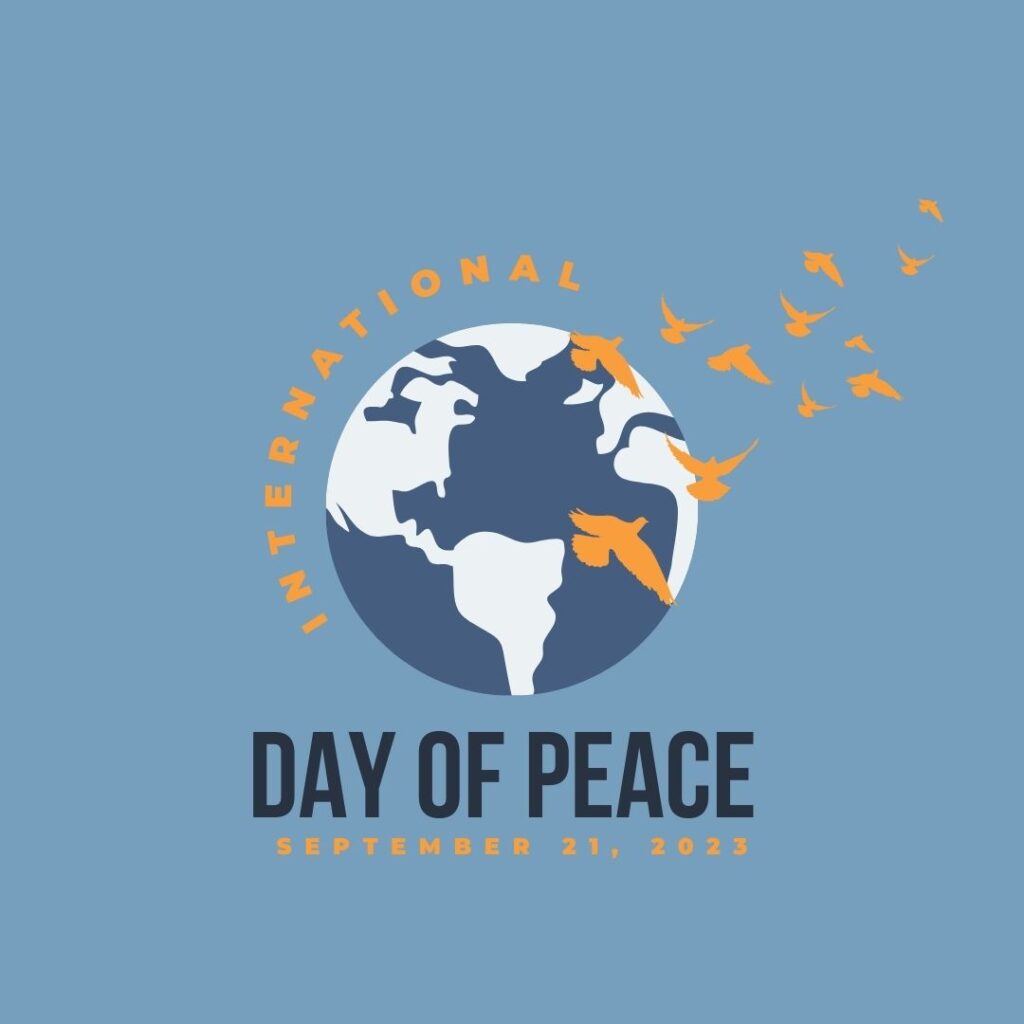 International Day of Peace, with its focus upon the sustainability goals this year, gives us an
opportunity to deepen our understanding of peace, and to recommit to pursuing peace with
more conscious intention. Think about one thing that you might be able to do, in your home,
workplace, school, neighbourhood, and/or community, to reflect upon and contribute to peace in
our world. Here are a few suggestions for your consideration:

Join with people worldwide to observe one minute of silence, at noon in local time. You can tune into UN Web TV to view the UN Secretary-General and the President of the General Assembly, in the Peace Garden at UN headquarters, ring the Peace Bell and observe a minute of silence. Encourage others to tune in as well.
Help raise awareness about International Day of Peace and/or the Sustainability Goals by posting something on social media
Write letters containing messages of peace and send them to relevant recipients.
Children can create drawings or other artwork expressing their hopes and desires for peace, or depicting their ideas of what peace is and isn't. Share their artwork with a wider audience, and/or send photos of it to PCS so that we can publish it in our upcoming newsletters!
Come together with friends and family to participate in the international Global Feast for Peace, over for a meal or potluck. This is another UN initiative, celebrated in large and small ways worldwide, to honour those who are working for peace, to encourage the next generation of peacebuilders, to express gratitude for the peace we have, and to commit to actions to foster a culture of peace in the coming year. Share some food you love with people you care about! You can also make it a goal to waste less food, and to support local farmers
Contact PCS to volunteer, or to make a donation to contribute to peace activities in our community. Share your ideas, creativity, energy and passion for a peaceful world with likeminded people of Ploughshares Calgary Society! We would love to hear from you.
Create some art, music, poetry, etc. on the theme of peace. Share your creation with us. We would like to publish selected contributions through our newsletter and/or social media.
Choose a film to watch related to peace, or to one of the Sustainability Goals. Watch it with your friends and/or family, and send PCS a review that we can include in a future newsletter.