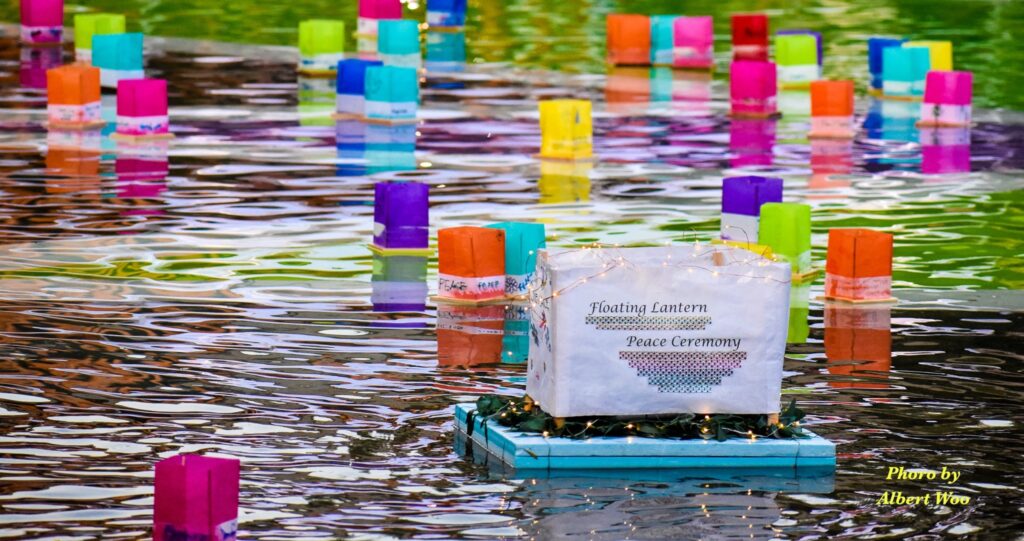 What is Calgary Floating Lanterns?
Calgary Floating Lanterns is a subcommittee of Ploughshares Calgary Society.
Since 2013 the Calgary Floating Lanterns, supported by Ploughshares Calgary, along with other community partners have held an annual Floating Lantern Peace Ceremony in memorial of those that were lost in Hiroshima and Nagasaki.
Calgary Floating Lanterns aims to educate the public on the dangers of nuclear weapons and bring people together to stand for peace.
Where is the Floating Lanterns Peace Festival held?
The Floating Lantern Peace Ceremony is held at Olympic Plaza in downtown Calgary.
When is the Floating Lanterns Peace Festival held?
Annually, in the beginning of August, on the first or second Saturday. (Aug 5, 2023)
What's New for 2023?
This year, the Calgary Floating Lanterns are planning the 2nd Annual Building A Culture Of Peace Month in August with a new and expanded program:
11th Annual Lantern Peace Festival at Olympic Plaza
2 new educational exhibits
Lantern installation featuring Pictures for Peace from youth around the world
Peace Film Festival
Education sessions
Check out their website or follow them on Facebook, Instagram or Twitter to get the latest updates.