Who We Are
A group of passionate educators working for peace and justice in our lives, classrooms, and communities!
This summer we created a guide for teachers to start implementing Peace Education easily in their classrooms! Please check it out and share!
Peace-Education-A-Guide-to-Action-in-Alberta-Schools-1
Our group is to discuss relevant topics, learn from others, and create community.
There is a lack of connection for educators who are implementing peace and justice education in their classrooms in Calgary and Alberta. We want to create opportunities for sharing of resources and experiences to build pedagogy. Impacting change in schools and policy is not an easy task and we all need support to keep going.
Join us for monthly meetings and connect on our Facebook group!
Join our mailing list for information on upcoming events.
A Ploughshares Calgary Society Subcommittee
Fall Events. Stay tuned for more details.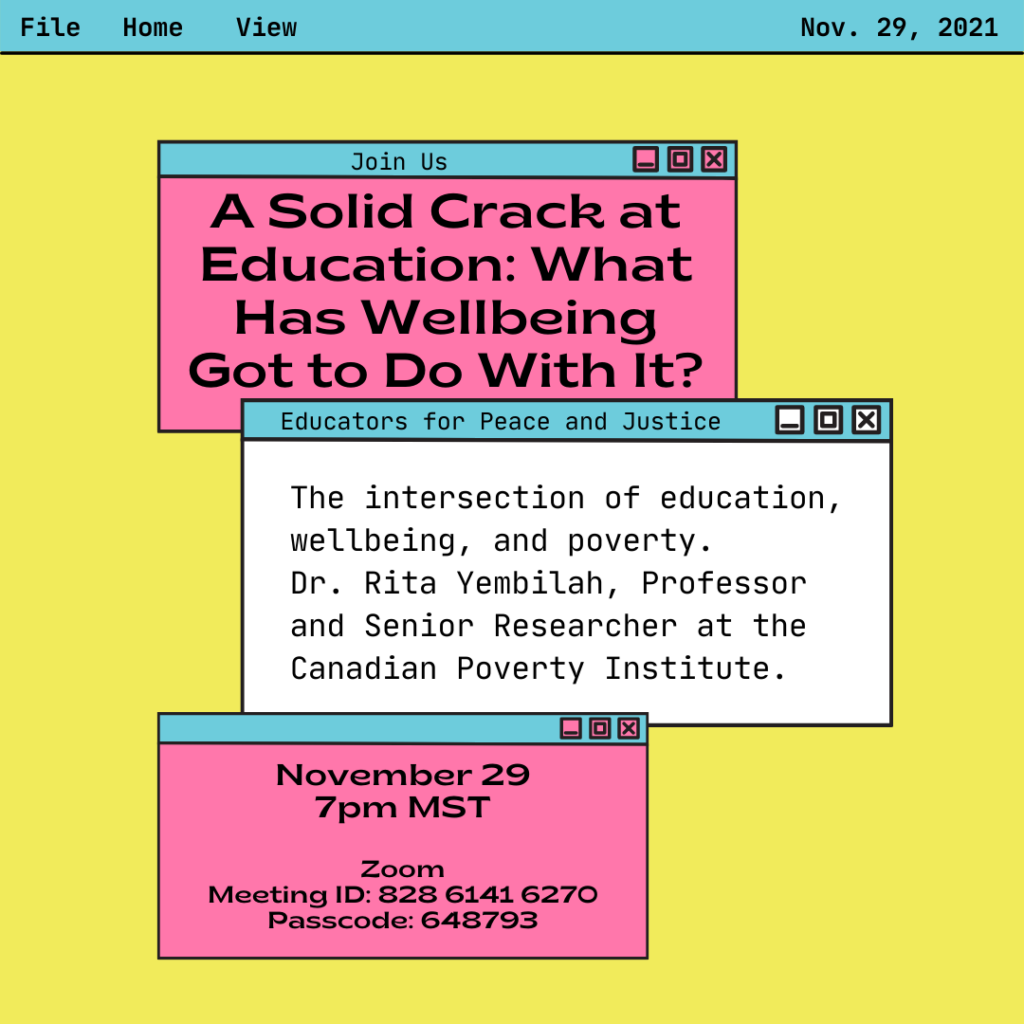 The intersection of education, wellbeing and poverty cannot be ignored. As teachers, we need to be aware of these impacts on our students learning.
Rita Yembilah, PhD: Rita is Human Geographer specializing in International Development Studies, but her expertise and experience have condensed into evaluation, experiences of poverty, vulnerability, and marginalization in society. Currently, Rita is with the Canadian Poverty Institute as Snr. Researcher and Evaluation Lead; and WINS as Director of Community, overseeing fund development and programs. A main framing for Rita's notion of poverty is multidimensionality and resilience building as the end-product for anti-poverty work. She brings a decolonizing lens to her work and is particularly passionate about intentionally including lived experience voices into research, policy, and practice. Rita is an Adjunct Assistant Professor of Development Studies at the University of Calgary and sits on the Ethics Review Board of the University of Calgary, the board of the Institute for Rural Education and Development (IREAD) and is Board Chair for the Institute for Peace and Development, Ghana. She is a Snr. Advisor at CoRe Resilience, an international development evaluation consultancy, carrying out anti-poverty related evaluations in many countries around the world. Issues of child poverty and wellbeing have been a large part of Rita's work in the last 6 years, and she is thrilled to join us all for a substantive discussion of the issue.
Meeting ID: 828 6141 6270
Passcode: 648793
In case you missed it:
What is Peace Education Slides
Conflict Resolution Training presentation recording
Building Peace Through Culturally Responsive Practice recording
Global Citizenship in a Global Crises (Jan 18)
Panel on Student Leadership and Activism with Nyakier Buong (Golden Mti), Chase Cardinal (Fridays for Future), Tanisha D (Fridays for Future), Erin Knight (Foundation for Rural Youth Empowerment), and Alicia Aikens (The Environmental Podcast)
Danica Derksen
Danica is a teacher and action researcher focusing on Peace Education.  She has a Bachelor of Arts in Social and Cultural Anthropology and International Development Studies from the University of Calgary.
Danica is a lifelong activist who seeks to empower others. Danica is passionate about making a difference wherever she finds herself. She is knowledgeable in areas of development and white saviourism, racial justice, climate change, education, conflict resolution, peace education, and other social justice issues.
Sherra Molyneux
Sherra Molyneux has a dual background in communications and education. She is a community-oriented, inclusive educator who is dedicated to various social and environmental causes. She is a strong advocate for Peace Education and is drawn to creative endeavors that provoke critical reflection and community engagement.
Kiera Schultz
Kiera is a St. Mary's student-teacher and action researcher focusing on incorporating Indigenous knowledge and traditions in Canadian classrooms. She has a Bachelor of Arts in Indigenous Studies, Anthropology, and History from the University of Lethbridge.
Kiera loves working with children and finding new ways to bring peace education and social justice into elementary classrooms. Kiera strives to encourage students to find their passion in helping others in inclusive and diverse environments.